Installation of Scoriet
System requirements:
A computer with Microsoft Windows operating system, from Windows XP up to Windows 10 tested. 32 bit and 64 bit. Scoriet 64 may only be used under a 64 bit operating system, it will not work in a 32 bit operating system!
Hard disk from 250gb
Ram: from 2GB
Graphics card: each, screen from 1024x768
Internet connection for serial number unblocking.
Requirements for the development of PHP:
Recommendation: Wampserver - 32 bit http://www.wampserver.com/en/ (please do not use 64bit, Wampserver 64 bit is still not stable!)
Scoriet do not devliver Wampserver in setup anymore, because Wampserver 3.1 has a size of 375mb! So it doesn't make sense anymore.
You can also install Apache, MySQL and PHP manually. You can also install PHP for Microsoft IIS. Please observe the respective installation procedures for the respective product!
An editor (Notepad ++ (not Notepad from Windows!) http://notepad-plus-plus.org/, Netbeans IDE for PHP https://netbeans.org/, Adobe Dreamweaver ($) or PHP Storm ($), etc. )
If you are not connected to the Internet, you must install the network bridge so that you can access the web pages locally (http: // localhost / xxx). The network bridge simulates a local network so that the PC has a valid IP address!
Common problems with Apache (port 80):
Skype accesses port 80, in the settings of Skype you can turn off the use of port 80: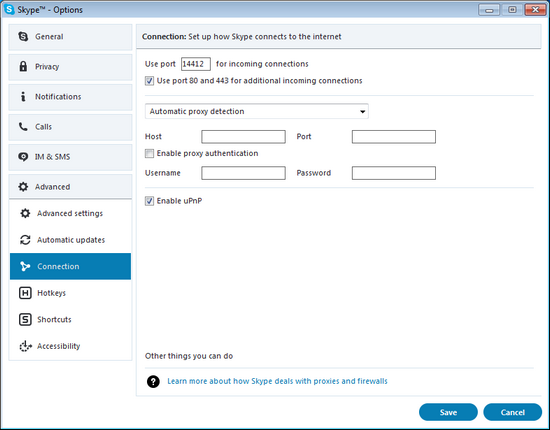 Apache with Microsoft Internet Information Server installed at the same time, this may not be. To run Apache, uninstall Microsoft Internet Information Server (Internet Services):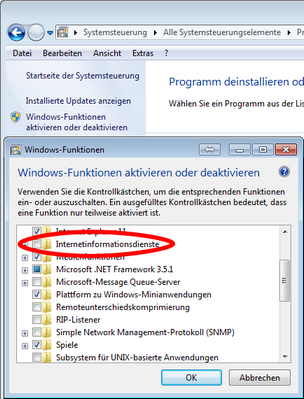 Requirements for all other programming languages:
For all other languages, such as GO, Phyton, C ++, C #, etc. you must observe the installation requirements of each product.
Download:
Download the installation package or for all updates: http://www.scoriet.com/downloads
You can choose and install between 32 and 64 bit at any time, there are no restrictions regarding the bit variants! The database is available for both bit versions. You can also install Scoriet in the 64 bit version.
Installation:
Caution: During the installation all BASIS TEMPLATES are overwritten !!!
If you have made any changes to the basic templates, please save the modified templates first!
The basic templates are not normally used for development, they are only a template for future projects !!
The basic templates are always kept up-to-date in order to demonstrate any new fields or functions!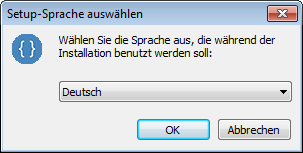 Select a setup language
Choose your preferred language, this manual uses the German language for pictures (TODO).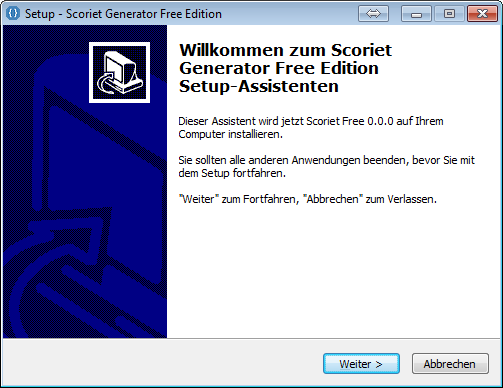 Select "Next"
Select "Next"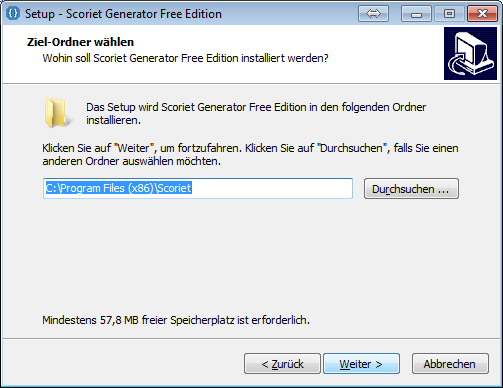 You can change the installation path, then press "Next"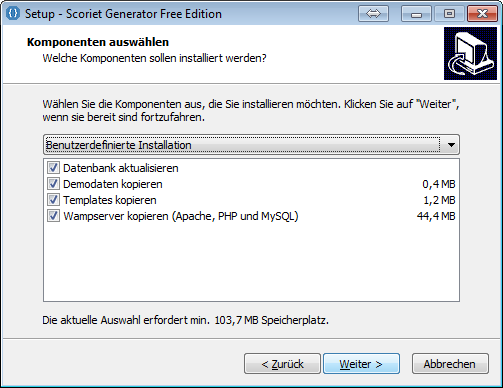 Select the desired installation options, the default options are selected. Then select "Next"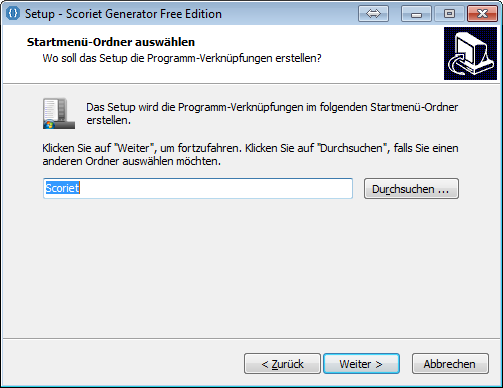 You can change the name in the start menu here, then select "Next"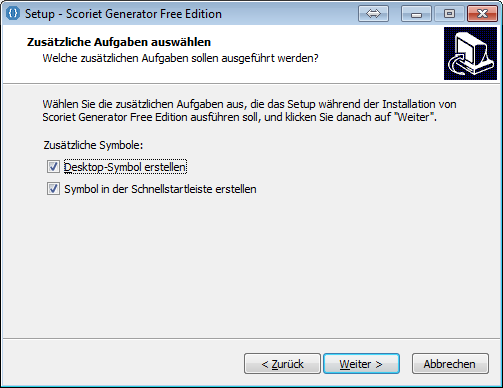 Sie können die Erstellung eines Symboles am Deskop oder in der Schnellstartleiste abwählen, wählen Sie danach "Weiter"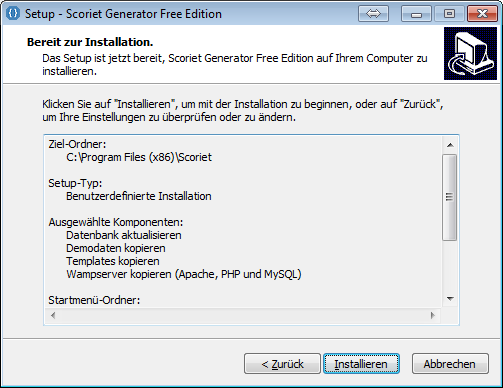 Check the settings, then select "Install"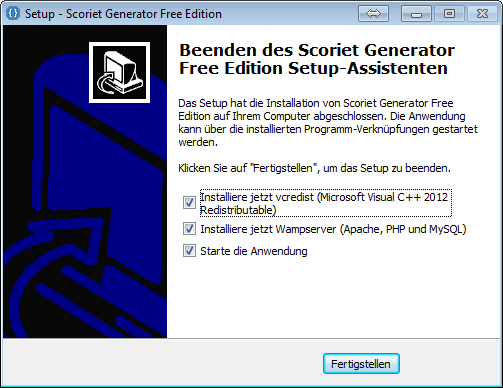 Select "Run application" to start Scoriet immediately. Scoriet Installer will wait until you have closed Scoriet!
Press "Finish".
Thanks for installing Scoriet. We wish you success with the product!